The asset had been caught in a downtrend since falling from its all-time high in November 2021.
Bitcoin (BTC) just recently hit a 5-month high above $23K as it looks to break above a long-term bearish downtrend it has been caught in for over thirteen months. The last time the asset retested the bearish trend line was in April of last year, but its hope of trading above it was quickly quenched by the bears at the time.
The recently-engineered rally persists despite occasional setbacks triggered by the bears. Bitcoin's latest price jump saw the asset hit a peak of $23,371 over the weekend, its highest point since last August. Following resistance faced at the $23K zone, the asset closed yesterday with a 0.33% decline but has so far picked up the pace again. 
The latest momentum sees BTC attempting to break above a downtrend it has been caught in since November of 2021, according to a report by CryptoQuant. The asset is currently retesting the trend line, as analysts believe its current position is a "critical decision point." 
According to the CryptoQuant analysis, if BTC is able to break above the 13-month downtrend, it could be making its way to new highs, but a rejection from the point, as was seen last April, would bring the asset below the trend line for another period of time.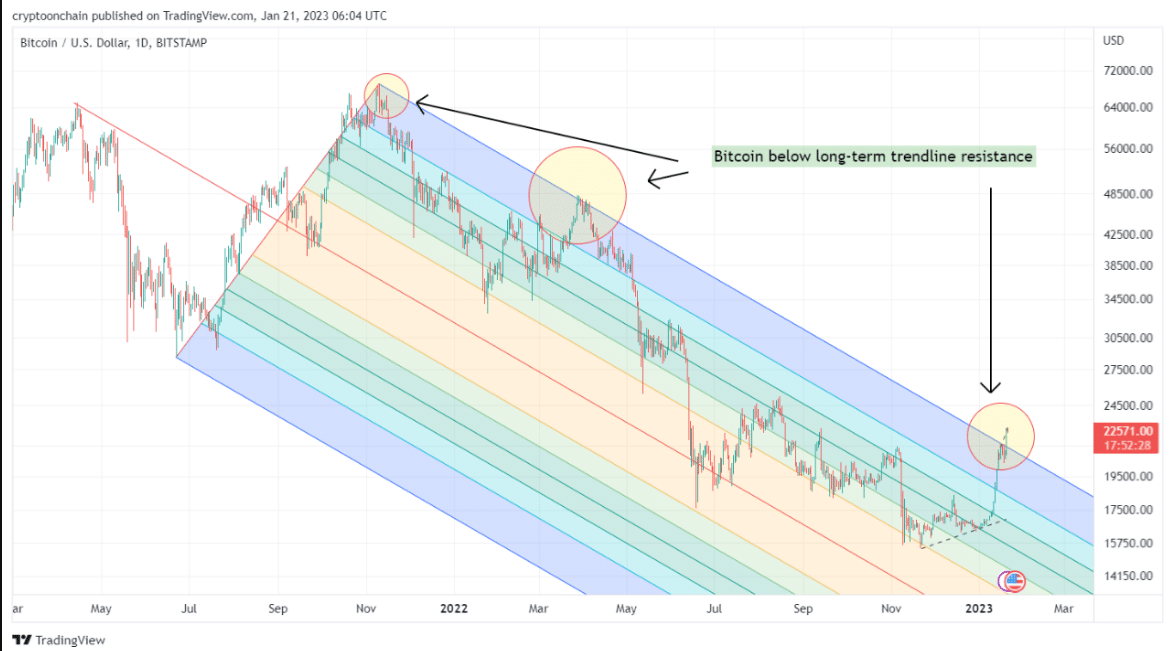 Despite the promising move above the trend line, BTC miners and short-term holders have taken to selling off their bags as a way to take advantage of the recent price pumps. This pattern is likely to put a strain on the asset's rally. Notwithstanding, long-term holders remain undaunted, as the amount of HODLed or lost coins recently hit a 5-year high of 7,565,383 BTC.
Analysts Advise Caution Amid a Resurgence of Interest 
Most analysts have advised caution at this stage regardless, as an increase in volatility and a delicate position could see BTC plummet to lower values. Material Indicators had warned traders not to trust too much on the recent uptick. Prominent analyst Crypto Toni is also uncertain of what to make of the rally, noting that it could be "a dead cat relief wave or a reversal on BTC." 
Notwithstanding the warnings, traders have re-entered the derivatives market following a period of predominant apathy. BTC Futures Open Interest on Binance surged from $2.4B on January 5 to $3.16B on January 21. Despite a slight drop, OI remains fairly high at the current value of $3.10B. Meanwhile, BTC is currently trading at $22,832, up 8.91% in the past week.